About Us
La Gorra Azul Ranch has been serving South Texas for over 50 years. We are best known for our fresh local honey harvested in Laredo, Texas. Our local Texas honey is loved by many, and we have several honey varieties depending on the season.
We also produce homeade jams, jellies, freeze-dried fruits, granola, and harvest fresh seasonal produce. We love sharing our love of creating, growing, and cultivating with you. Happy to have you here!
Farm Fresh from Laredo, Texas
Depending on the season, we harvest fresh fruits & vegetables right in Laredo, Texas! Our favorite season is citrus season - running through winter time.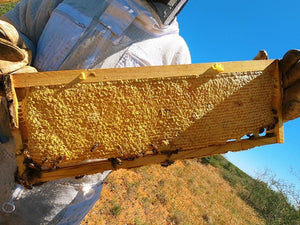 Beekeeping in South Texas
We are so proud of our local, raw honeycomb. Fresh honeycomb is perfect on cheese boards, in yogurt, on toast, or just as a snack. Nothing like the taste of Texas honey!
Happy Cows
We also raise Beef Cattle & grow Buffel Grass. Our cows live a happy life with lots of sunshine & grazing land.